A Vision for the North Fringe - Public Engagement Drop-in Event
When: Tuesday 24th May 2022 - 6pm - 8.30pm
Where: Little Stoke Hall cafe, Little Stoke Lane, BS34 6HR
Join the conversation on our Strategic Infrastructure-led Masterplan.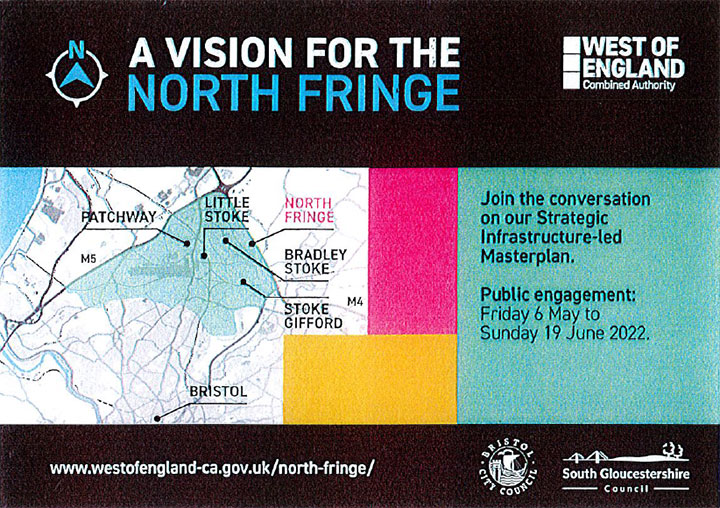 We are writing a vision for the north fringe of Bristol, which includes the communities of Filton, Cribbs Causeway, Patchway, Bradley Stoke. Stoke Gifford, Harry Stoke, Henbury and Brentry. This will be a vision that closes the inequality gap, enables sustainable growth and responds to the climate and ecological emergency, over the next 30 years.
Once complete, this vision will be presented in a document called the Strategic Infrastructure-led Masterplan for the north fringe of Bristol. The masterplan will set out a vision for the area up to 2050 and recommendations for how the vision can be achieved.
How to join the conversation
Take part in the survey and find out more by visiting our webpage or joining us at one of our drop-in events:
Tuesday 24 May, 6pm - 8.30pm
Little Stoke Hall cafe,
Little Stoke Lane, BS34 6HR
Website: www.westofengland-ca.gov.uk/north-fringe/
Download the Strategic masterplan summary (PDF)