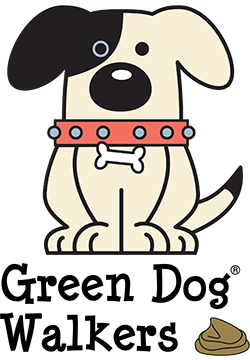 A friendly way to tackle dog fouling issues
The idea is that responsible dog owners sign a pledge to say that they will clear up after their dogs & will carry spare bags with them which they will offer to anyone they see not clearing up. They will wear a very distinct arm band to identify them as a Green Dog Walker. This is a non-confrontational friendly way to approach those who haven't cleared up after their dog.
A friendly reminder...
Green Dog Walkers is a non-confrontational, friendly way to change attitudes about dog fouling.
What's the Green Armband for?
If you see someone wearing the Green Dog Walkers armband, it means that they have "Taken the Pledge"
to always clean up after their dog
to carry extra doggie bags
to gladly give you a bag for your dog-just ask
Would you like to take part in the project?
Download and read the Pledge and return the signed Acceptance Form (PDF).
Green Dog Walkers® is an original project initiated by Community Green Initiative of Dunipace in partnership with Falkirk Council
It is operated in South Gloucestershire under licence through the local groups
Report an incident
Roger Poole, the South Gloucestershire Council, Education and Enforcement Officer is keen to receive reports of incidents of dog fouling. These can be reported anonymously. All reports will be treated confidentially.
Roger can be contacted by the following methods:
E-mail: roger.poole@southglos.gov.uk
Phone: 01454 868000
Text: 07900703402
Information needed:
Location, Time, Day, Date
Identity or address of dog walker (if known)
Description of walker
Description of dog
Any other intelligence